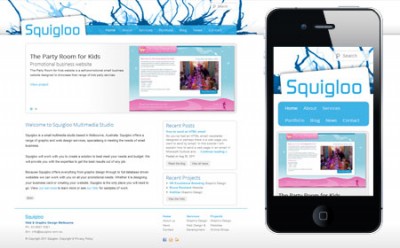 Almost 50% of Australians have a Smartphone and they are using their phones to research and find businesses online. So what kind of impression does your website make when it's viewed on an iPhone or Android phone? Talk to us about having your new or existing website being mobile friendly. We can optimise your existing design to work on phone or build you a mobile specific site.
Check the new Squigloo website to see how it works on an iPad, iPhone and range of other smart phones and hand-held tablets. The Squigloo site has been specifically designed to resize to fit each device and get most of out of the screen real estate of each device.
The other alternative to having your website design being optimised to fit is to have a separate website just for mobile devices. This a great option for big websites which choose to serve up content that's relevant for mobile users or offer a cut down version of the site that easier to navigate.