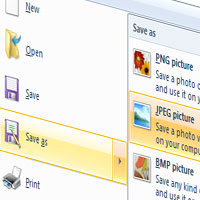 Reducing the size of an image is important for a number of reasons. If you are email photos to someone you may need to reduce the file size so that it be sent to their inbox. By reducing the photo dimensions and file size you will also speed up the time it takes to send/download the email.
If you are uploading images to a website then it's important to reduce the file size before uploading. When an image is on a web page it only needs to have a resolution of 72 dpi and usually no bigger than around 900 x 600 pixels. So if you are uploading images straight from your digital camera then follow these tips on how to reduce the image first. It will save you time uploading and will also improve the performance of your website.
In this tutorial I will show you how to reduce the image size for free without needing Photoshop. This tutorial covers Windows PC users but a Mac tutorial is coming soon.
How to resize & email using Windows Photo Viewer
Right-click your image and select Preview to view in Windows Photo Viewer
Press the E-mail button in the list of options at the top of your image.

Choose Medium as the picture size option.
Press Attach. This will add the reduced image as an attachment in your email,
How to resize & save a copy using Paint
Right-click your image and select Open with  > Paint.
Select the Resize button. This will open a popup dialog.
Change resize by to Pixels.
Change the width to around 900 for landscape photos or 600 for portrait photos. Make sure the maintain aspect ratio is checked. Press OK.
Go to the file menu (left of home tab) and select Save as > Jpeg and save a copy of you photo. Be sure to give it a new name as you don't want to save over the original image.
There is also an option to email the image from Paint as you can see in the last image in the image above.
Other ways to resize images
There are also plenty of other options available. If you are on Windows 7 then try the Windows Live Photo gallery. If you are doing a lot of image resizing then it might be time to consider professional software like Adobe Fireworks or Adobe Photoshop. These aren't cheap but then will reduce file sizes significantly with quality results.