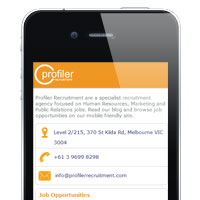 There has been some exciting changes take place over the last month with the Profiler Recruitment website. We worked closely with Profiler Recruitment to review their current website and streamline the content for their target audiences needs.
One of the first major changes was to create mobile website that focused on the needs of users on the go. Our research showed that if you are viewing Profiler Recruitment on your mobile then you after contact information or job searching.  The mobile site focuses on providing quick access to jobs and contact details. It also has a built in call to action which allows users to instantly call or email about a job they have seen on the site.
The rest of the Profiler Recruitment website got an overhaul too. The content was streamlined to provide a cleaner and simpler approach, focusing each page on specific content and adding additional tools for accessing jobs.
Visit www.profilerrecruitment.com on your mobile!
Do you want to make the most of your website for mobile users?
Read the Making my website work on a mobile blog post to learn more about mobile options.