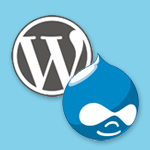 Chances are if you have been using WordPress or Drupal for a while you have become familiar with the terminology and when to use what where. However if you have to switch from one to the other it can become somewhat confusing. You can still achieve generally the same outcomes but all the terminology has changed. And if you're new to either CMS software then this will be a handy guide to understand all the lingo and features of each software.
WordPress (3+) vs Drupal (7+) Glossary
WordPress

Drupal

Description

Theme
Theme
A theme is provides the look and feel for your website. With both software packages come with a range of default themes. You can also use free or purchase themes or can build your own custom theme. Themes can also include a bunch of built-in special features. Themes include template files, CSS documents and images used to setup the style of your website.
Post
Article
If you have content which regularly gets added to your site such as news articles or blog entries then you would create each entry as post/article. Post/Articles are usually displayed in your website in chronological order and get added to the websites RSS feed.
Page
Basic Page
A page/basic page is designed for static content which is not listed on your website by date but instead is accessed via links. Pages/basic pages are suitable for content such as an about page or a contact page.
 Plugins
 Modules
Plugins/Modules extend the functionality of WordPress/Drupal. They might be as simple as stylising the search bar or as complex as a full shopping cart. Both WordPress and Drupal come with a range of built-in plugins/modules but also have community driven range of plugins/modules available to freely install. You can also purchase plugins/modules or build your own.
Sidebar
Region
 A sidebar/region is a area within your template designed to display widgets/blocks. You can have none, one or multiple widgets/blocks per sidebar/region.Most WordPress templates come with two sidebar sidebars (a column to the right of your main content) and multiple footer sidebars.Whereas Drupal lists all of the content regions of your template as a region. Not only does it list footer and side column regions but also all the other regions in your template such as the header or main content area.In both CMSs you can create your own sidebars/regions.
 Widgets
 Blocks
A widget provides a snippet of content that appears anywhere that sidebar appears. It maybe a simple text field or dynamic content such as recent posts or comments. For example you might have a text widget in your footer to display some basic content information on every page in your website. Or you might create a sidebar that only appears when view a posts and use a widget that shows related posts. You can assign a single widget type to multiple sidebars.

A block is very similar to a widget. It too can be some simple text or fully dynamic content like telling users 'Who's online'. You assign a block to region with the option to specify on which pages/content types you would like the block to appear (or not appear). Unlike WordPress you cannot assign the same block to multiple regions by default. If you want to apply the same block to multiple regions then your need to extend Drupal's functionality with this MultiBlock Module.

 Menus
 Menus
 As the name suggests, its a menu. Menu's store a list of links to pages/posts/articles in your site. You can have multiple menu's and add these menu's to your website by either using code in your theme's template files or by adding the menu as widget/block in a sidebar/region.
 Dashboard
 Dashboard
The Dashboard provides an interface for the backend of the website – where you create your content. The look and feel of these differs quite a bit between WordPress and Drupal. In WordPress entering the Dashboard provides a one place access point to all your editing features. You then return to the WordPress site to view the changes you have made. Whereas in Drupal (version 7+) when you login to the backend system you see a menu at the top of the page will all the editing options. Clicking on these overlays the options on top of your design. There is still Dashboard link but this just displays few editing features (unless you customise otherwise).