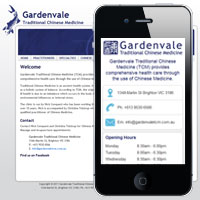 The Gardenvale Traditional Chinese Medicine website is now available as a m-site. The mobile friendly version is a specially designed version of the website which provides information relevant to mobile phone users in a quick to download and easy to read format. SmartPhone users automatically see the mobile version of the website when they load it on their phone. Information includes the contact details, location and hours of operation. Users can they choose to exit to the full site for more information.
The mobile friendly site works for iPhone, Android, Blackberry, Windows 7 and a range of other SmartPhones in both portrait and landscape modes.
Talk to Squigloo today about getting your website converted to mobile friendly!